Nate, a serial software entrepreneur, is co-founder and CEO of Enerex. He pioneered the retail energy sales cloud arena with the introduction of CORE ("Collaborative Operations for Retail Energy") in 2006 under the company Energy Frameworks. In 2019, Energy Frameworks merged with Powermatrix, forming the de facto standard for retail energy sales, now known as Enerex.  Nate handles Strategy and Finance (along with US-based HR, Legal, and IT) at Enerex.
Deepinder, a seasoned Technology Entrepreneur, is the co-founder of Enerex. An electrical engineer by profession, Deepinder has architected several projects in his career spanning 22 years. Along the way Deepinder has also created two very successful software businesses. Deepinder's innate ability to build high-performance teams, including his strategically-selected executive management staff, has served as a growth catalyst and infused productive energy into the workplace.
Jason Beck, is a sales & marketing leader with 10+ years of experience growing customer bases for startups to Fortune 500 companies within deregulated energy. He has an extensive background in creating and executing multi-channel customer engagement plans while streamlining internal cross-functional processes through software automation. Some of these channels include door-to-door, Brokerage, Telemarketing, Digital and Direct Mail. Past positions include managing 3rd party sales channels for Constellation, leading the residential business unit for AEP Energy and VP of Marketing, Reporting and Analytics for Source Power & Gas.
Accomplished Executive adept in balancing technical knowledge and business acumen. Possess great leadership, management, communication, and people skills. Manage products from end-to-end, creating vision, strategy, and roadmaps. Excel in dynamic, demanding environments while remaining pragmatic and focused. Adept in balancing technical knowledge and business acumen. Results-oriented technology professional focused on enterprise solutions. Diversified background including marketing, sales, consulting, and software development of large-scale, business-critical solutions. Aggressive problem solver and decision maker with the ability to set realistic priorities and initiate viable courses of action.
Mark Sorich, seasoned entrepreneur and executive with 30 years' sales and sale's leadership experience. Considerable knowledge of building and growing a startup. From idea stage to sales/marketing execution, defining and bringing product to market, evangelizing to early prospects & customers, scaling for momentum, and putting technical and administrative operations in place. Exposure across an organization from product, engineering, sales & marketing operations, service delivery and professional services. Strength selling to early & new customers and iterating SaaS solutions for the market.
Olivia Chalmin is Enerex's Director of Customer Success, and in that role, has ultimate responsibility for our customer's satisfaction and success. Olivia has more than 14 years of leadership experience in Operations, Business Development, Consulting and Technology within the US Retail Energy market. She has scaled and led customer-focused, high performance teams for a C&I-oriented Retail Electricity Provider in the ERCOT market. Since joining the company, Olivia strives to deliver values to our customers in a way that resonates well with Enerex's core values. Outside of her passion for driving outcomes in her clients' businesses, Olivia enjoys traveling and spending time with her family (she's a mom of 3!).
Dorothy worked with Xerox Corporation for 16 years prior to joining the Energy Frameworks team in 2012. At Energy Frameworks she served as the lead point of contact for all customer accounts and account management. She also maintained support infrastructure, created training documentation, and performed customer training. Dorothy brings over 20 years of experience and an extensive background in client and account management, pre- and post-sales support, contract implementation, and software consulting. She has managed local and national operations, headed client implementations, customer trainings, and enhanced client relations. As part of the Enerex Customer Success team she will lead the migration of CORE clients to Sparkplug to ensure a smooth transition as she also transitions to the new platform.
Craig joins our team as a Customer Success Manager working with the Customer Success team. He received his formal education from Illinois State University and brings 10+ years of experience, wisdom and innovation to our team. He brings a dozen years of small business experience to the table was recognized as one of the top 20 Innovators in Washington State! Craig will be responsible for ensuring brokers get the most out of Enerex solutions.
Anna joins the team at Enerex as a Customer Success Manager. She brings years of experience working within the energy industry on the Broker side. At Enerex, Anna will own the entire post-sales process working closely with clients through on-boarding, mapping client data and conducting training and into long-term immersion of our software in their day-to-day business. She will act as a voice of the clients in addition to keeping up with the industry and communicate ideas and feedback to the development team to shape our products.
Dimelza is our Customer Success Manager for our Commissions Generation Software, CRAFT. With a rich background in the energy industry, particularly on the Supplier side, Dimelza brings a wealth of experience and insights that will greatly benefit our clients. Beyond her immediate responsibilities, Dimelza serves as a vital bridge between our customers and the Development team. She will facilitate open communication, enabling customers to voice their questions, ideas, and suggestions for enhancing CRAFT. By fostering this dialogue, she plays a crucial role in shaping the software to meet the evolving needs of our clients. Dimelza, originally from Havana, Cuba, now resides in Miami, Florida.
Karen has spent her career providing exceptional customer service to business software customers. She originally joined the Energy Frameworks team in 2012, where she capitalized on her experience in enterprise-level system migrations, project management (PMP), and business development. She started her career in software developed for the publishing industry – starting as a support consultant and ultimately managing the support and development team for the company's legacy systems. Her background in virtually every aspect of software development except coding – design, requirements, support, training, documentation, and QA – makes her uniquely qualified to deliver a complete customer success experience to our clients.
Pia is actually Senior Business Analyst at Enerex Product Management Team.
She has been working on software development for over 20 years, starting as a functional analyst and then project leader for the first web-based applications for banking and healthcare industries.
She joined EnergyFramework in 2009 as QA Leader adding later tasks related to Business Analyst and Product Management roles.
She thinks through projects to make sure the solution fits the needs of the client and meshes with the overall platform. Applying her analytical thinking to develop full solutions and deliver an outstanding customer experience.
Dhyuman has 15 years of professional experience and is an instigator of innovation with unwavering determination to deliver superior solutions on time. One of his past projects was built under the guidance of UBS and currently has over 100 deployments with companies ranging from 15 Million to 300 Million dollars in annual revenue. Dhyuman delivers products with true passion and a focus on a value driven approach. With his diverse background, he has been able to execute on projects no matter how challenging or complicated. He is a true professional in every respect bringing a wealth of value and critical input to any situation.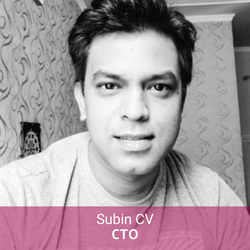 Subin is a Technology enthusiast and is well versed in a variety of programming languages. He has 10 years of experience in analysis, design and development of client/server and web based applications. He is an expert in developing in Microsoft Visual Studio and has worked extensively with ASP.Net, C#, JavaScript, Web Services, SQL Server Database. He is always eager to learn new and advanced concepts to expand his horizon and apply them in project development. He is very flexible and versatile and always maintains a good sense of humor even under pressure.
Our company Vision is to be the source of trust for retail energy.
For this reason, trust is a the core of everything we do as a company and every interaction with customers and partners. Without trust, markets cannot thrive.
Think you have what it takes to be part of the Enerex team?